Elphel Camera Sandbox
From ElphelWiki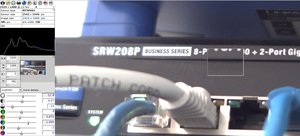 This section describe how to use the Sandbox of Elphel 3xx Network Reconfigurable Cameras.
Please feel free to contribute and discuss on the proposed architecture.
Hardware
Our Sandbox is based on:
* a manageable POE switch: Linksys SRW2008MP - did not work reliably, use our regular midspan PS with remote power on/off relay
a PC with an HD, x86 CPU 2 GB RAM, 2 network cards, DVDROM
different combinations of Elphel 3xx cameras connected to the POE switch

one Elphel 353 connected to the POE switch and by serial console to the PC for debugging
The server
The server will run a modified version of ElphelSoftwareKit
the distribution is be modified to allow:
to reserve an exclusive access to sandbox of a camera or of a LiveDVD distribution or both
control the POE switch (power up/down cameras, why not some statistics from the switch, like traffic, POE consumption, ...)
soft (reflash.php) and hard ("pressed" button and power up/down)
store/restore users/developers configs from cameras / LiveDVD on some server
reboot a LiveDVD session
bug report
Elphel Network Cameras
Different models or combinations of boards can be connected to the switch.
Actually one Elphel 353 camera with IDE zif HD connected to 10349 board is available: http://sandboxcam1.elphel.com
HTTP, FTP and telnet are available.