Frednet
From ElphelWiki
Team Frednet Overview
Team FREDNET is an official competitor for the Google Lunar X PRIZE. The purpose of this competition is to place a privately funded robotic explorer craft on the surface of the Moon. The explorer must also satisfy certain requirements specified by the X PRIZE Foundation and provided in more detail on the requirements link included below. Briefly, those requirements include the transmission of near-real-time high-definition video from the Lunar surface to our receiving station on Earth, while traveling at least 500m along an interesting and controlled path. The X PRIZE Foundation also offers a bonus prize for exploring over an additional 5000m (5km), and another bonus prize for surviving the intense cold of a Lunar night then continuing to explore the Moon's surface after the Sun rises again. The grand prize of US$20M (US$20,000,000.00 or US$20.000.000,00) is open to officially registered teams to win up until the initial deadline of 2012/12/31. This prize amount is reduced if no team has completed the mission by that time, and the prize becomes US$5M (US$5,000,000.00 or US$5.000.000,00) awarded to the team that completes the mission after 2008/12/31 but before the contest termination date of 2014/12/31. See the detailed rules provided in the link below for more information about the other prize amounts (second place, bonuses, partial completion prizes, etc.).
Frednet Community
Team FREDNET is a working Open Source Community, comprising members from six continents and dozens of countries around the world. The Team is open for participation from anyone, including people in both technical and non-technical roles, business, marketing, sales, production, creative, analytical, educational, and much more. Our mission requires us all to work together cooperatively and to incorporate many interdisciplinary skills. This collaborative interdisciplinary approach shall be the seed of our success. The Team was founded by Fred Bourgeois (Fred.Bourgeois@TeamFREDNET.org) and was one of the first 2 teams to publicly announce their intent to compete for the prize. Team FREDNET rapidly grew from a handful of developers (12) in September 2007, to more than 500 members today. That growth is a witness of the incredible amount of interest in returning to the Moon, from dedicated people all around our world. We are a new generation, with a new purpose, asking not what our planet can do for us, but what we can do for our planet.
What does Team Frednet want to achieve?
Win the Grand Prize of the Google Lunar X PRIZE
Win several of the Google Lunar X PRIZE bonuses, including:

5000m (5km) exploration distance bonus
Survive the Lunar night and explore for a second Lunar day
Explore historical artifacts (Apollo and other landing sites)
Also, although we did not initially set out to do so, we believe we are best positioned to win the Google Lunar X PRIZE "Diversity Bonus Prize". Some of our competitors have already suggested that that prize be awarded to Team FREDNET. Our position is that diversity means that we are really all the same, because there are only two colors that matter on Team FREDNET: our brains are all Gray, and our blood is all Red.
Working Groups
Team FREDNET's active working groups include
Rover (WRV1 and Jaluro)
Communication (all aspects: ground, space, lunar surface, network)
Propulsion
Lunar Hovering Vehicle (a.k.a. "Lunar Lander")
Lunar Bus (the Trans-Lunar-Insertion craft)
Lunar Orbiter
Imagery Systems (Video and Still)
Mission Control Systems
Software (FREDWEB will implement some live video stream technology)
Business & Organization
Future Projects
While our members span the gamut of ages (age 8 - 80+), as an organization we are still young. Our members have a variety of levels of education, experience, and background. Many open questions and a great deal of work remains to be done. But we are learning fast, dedicated to complete the tasks at hand, and working hard, with an amazing and unprecedented level of International Open cooperation for a Space mission.
Some may ask why we are developing different Rover designs? We decided early on that the best way to achieve success in our Lunar mission was to examine as many feasible solutions as possible, and select and tailor the best of those designs to create the most viable craft. The outer design and drive units of the rovers vary for that reason. This will allow us to compare working prototypes and incorporate the best features in the final design, thereby
increasing our rovers probability of survival in the Moon's difficult environment. Many components of the designs will therefore be modular and interchangeable. These component modules include the electronic and software controls at the heart of the systems, as well as both the still and video imagery systems.
Summary of GLXP Requirements for Images and Videos (Version 3)
Some requirements specified by the X PRIZE Foundation are not very exact (e.g. "framerate", "near realtime video"). By our best estimates, the image and video technology offered by Elphel is more advanced than the minimum requirements, and therefore provides a good solution that allows us to meet these requirements. Please note, however, that the specific rules provided by the X PRIZE Foundation are still subject to (hopefully now minor) revisions.
Images
High quality, show intended contends clear and recognizable
Minimum eight bits per pixel per color
Signal to noise ratio 50:1 for scene of albedo approximately to 0.1
Minimum Resolution: 0,3 millirands/pixel
Color
Calibrated for Color Correction
Reasonable Resolution
Reasonable contrast at the pixel level, such as would be provided with a system Sagittal and Meridional Modulation Transfer function of 40% in the entire focal plane for the entire spectral range at the Nyquist frequency
Panoramic Images
Horizon Level
Horizontal Dimensions: 360°
Vertical Dimensions: 120°
Detail Images
Videos
Near real time videos shall have the following attributes after processing
Resolution: 320 x 240
Bitrate: 256kbps
High Definition Video shall have the following attributes after processing:
Resolution: 1280 x 720 progressive scan (720p)
All Videos shall be high quality
Frame rate appropriate to the action in the frame, and which results in smooth motion
In color
Calibrated for color correction
Additional Requirements for Team FREDNET's Mission
Video and Images
If possible, Team FREDNET plans to exceeed the minimum requirements. E.g. we plan to provide 5Mpixel images, higher framerates (15fps, 29fps, ...), and more where this is technologically feasible without significantly impacting the budget for the overall Mission.
Extra bonus is not the main target in Team FREDNET mission but if is possible we will provide a HD camera with 10x optical zoom + 30x digital zoom that could be done more than 10 km away from the site in order to capture any heritage site. GLXP rules don't require visiting a heritage site just imaging it. (AlexC)

Environmental Conditions
The Moon's surface creates a plethora of hazards to electrical and electronic systems. Because of the importance of the video and imagery systems to Mission success, the cameras, lenses, and sensing units must be afforded extra degrees of protection. The primary risks against which we must take protective measures include:
Radiation - primarily alpha, beta, and gamma rays
Electromagnetic radiation
Extreme heat (390K) during journey to Luna and during the Lunar day
Extreme cold (down to 100K) during journey to Luna and during the Lunar night
Lunar Regolith (sticks to and penetrates everything. Lenses require extra protection)
Shock/Impact due to collisions with obstacles, and travel over rough surface
Vibration during Launch, Journey, and Landing
Acceleration (high g-forces) especially during Launch and Landing
Low Pressure Environment
Team FREDNET will develop a casing for the camera and sensor unit which provides sufficient protection against these risks.
Rover Data Processing Overview
We currently have two different schematics for the data processing system of the Rover. To minimize mass, size, and power consumption, we prefer the first design, but remain flexible. The main difference between the two schematics is that in the first all data processing (including encoding of the incoming video and images from the CCD/CMOS Sensor) is done by one processor, while in the second multiple processors are utilized. Note that depending on the rover design, there may be other changes, such as utilization of 2 or 4 motors, or utilization of a single heating system. The data storage device is not yet specified, and depends on the availability of space-hardened high capacity solid state data storage devices that meet the (as yet undetermined) requirements for buffering and caching of streaming video, imagery, telemetry, and other required data.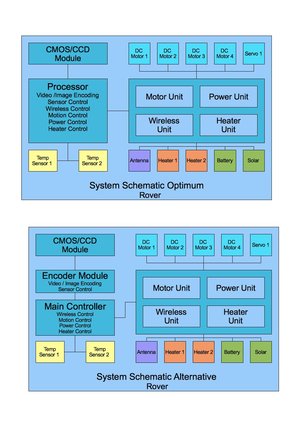 Contact Team FREDNET
Team FREDNET website
Team FREDNET wiki
Team FREDNET forum

| | | |
| --- | --- | --- |
| Fred J. Bourgeois, III | Founder, Principal | Fred.Bourgeois@TeamFREDNET.org |
| Richard D. Core | Founder, Principal | Rich.Core@TeamFREDNET.org |
| Michael Barrucco | Honeywell | |
| Howard V. Blair | Consultant | |
| Wade Butcher | Consultant | |
| Sean Casey | USRA / Sofia | |
| Chris C. Clabaugh | Kabira | |
| Michael Foster | MediaTile | |
| Jeremy Glassenberg | Box | |
| David Masten | Masten Space Systems | |
| Joerg Schnyder | Consultant | joerg.schnyder@teamfrednet.org |
| Joshua Tristancho | UPC | |
| Ryan Weed | Consultant | |
Joseph M. Stevenson
Alex Csete (Communication expert): oz9aec@googlemail.com
Tobias Krieger (Rover expert): tobiokanobi@hotmail.com

Elphel and Team FREDNET
Team FREDNET and Elphel are developing hardware and software under the terms of an Open Source license. Hence, all data about hardware and software, including source code, designs, documentation, drawings, and specification created in the course of this development process shall be made freely available and published under the terms of the GPL or a similar Open Source Technology license. This means that all developments shall be made freely available, but does not in any way restrict the future commercial developments of Elphel or others based on use of the technology. Active cooperation is therefore useful and mutually beneficial to both organizations. In the course of this project, Team FREDNET can offer at least the following benefits to Elphel
Exposure of the Elphel brand on the Team FREDNET web sites, wiki, and forums
Exposure of the Elphel brand and product lines to the Open Source communities
Early opportunities to engage in media and press events (demos, launches, etc.) as a Team FREDNET business partner
Inclusion in the Partners section of the [new] Team FREDNET web site.
Include articles about Elphel (ours or yours) on our Blog/News and on the Google Lunar X PRIZE Blogs
Early access to development news about future Team FREDNET products and services
Potential to enter into Sponsor agreements under which the Elphel name and logo are "faded in" to streaming video broadcasts from the surface of the Moon.
Potential to enter in Sponsor agreements to place Elphel logos on Landers, Rovers,and other Craft to be photographed during the Mission
Potential to Sponsor other Media and Press Events, and to participate in Team Summits and Developer Conferences.
Additionally, Elphel gains a wide audience of knowledgable and experienced hardware and software developers from around the world. While we cannot guarantee that this will lead to an increase in use of Elphel solutions, empirical evidence suggests that developers who have been given access to such systems tend to later re-use and specify systems with which they are familiar to their clients, employers, and interested third-parties. Further, inclusion and frequent mention in a high-profile and exciting proposition such as this will automatically generate higher placement in search results on the numerous search engines. Being associated with a high profile project will tend to generate more highly placed results, leading to more interest from potential users of Elphel technology.
Epilog
This is only a very brief description of Team FREDNET and the current project status. Please visit our website, wiki, and forums to get a broader view of the activities currently in progress.
If you need more information, contact me,Tobias, or visit out official website at http://www.frednet.org