Modifying the camera for 12-36v mobile applications
From ElphelWiki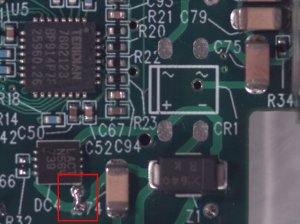 By default 10353 board is powered with 48V DC over Ethernet cable, it is possible to modify the camera for mobile applications. 12v and 24v are the most commonly used.
!! You can buy an already modified board from us, these are the instructions for OEM manufacturers !!
unsolder the PDUKE DC/DC converter to replace it with "THD 12-2410WI" from TRACO.
in order to bypass 802.3af negotiation you will need to connect DC4.4 to DC4.5. It is easier to connect trace to via as you can see on the photo.

Traco THD 12-2410WI documentation show that efficiency is optimal with input voltage: 16-17v.
Using Elphel NC353L-10369-HDD camera on 12v battery is not recommended. 12v is a marginal application for this DC/DC and may damage your HDD with frequent reboot. The 16-24v battery is recommended.